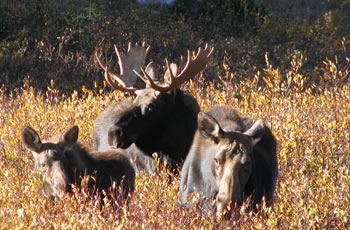 Welcome to Carbon County, Wyoming
Fishing - Hiking - Hot Springs
When you travel Wyoming, find it all in Carbon County! Come out and visit this spring to enjoy fishing, hiking, hot springs soaking, local events & fabulous lodging options!
View E-Brochure
Check out our printable e-brochure.
If you love the outdoors you'll find plenty to love in Carbon County, Wyoming. Rodeos, festivals, microbrew festivals, concerts, parades, dances, wood-chopping competitions, museums, historic sites, natural hot pools, all await you in this scenic paradise. Learn more about all we have to offer in our e-brochure.
Woodchoppers Jamboree and Rodeo June 14-15, 2014 - For this 54rd annual event, the chips fly during Father's Day weekend in Encampment as loggers come from all over the country to compete for the title of Rocky Mountain Champion Lumberjack. Using power saws, axes and hand saws, men and women competitors cut down "trees", chop logs and saw squared wood blocks in half, racing the clock for the fastest time. Cowboys ride bulls and broncs. This unique Wyoming event assures a good time will be had by all. Sponsored by Encampment-Riverside Lions Club. For general questions, please call Jim Johnson 307-710-5558. For more info about the Jamboree, please call Ron Harvey 970-210-2955 or email This email address is being protected from spambots. You need JavaScript enabled to view it. This email address is being protected from spambots. You need JavaScript enabled to view it. . For more info about the Rodeo, please call Jerry Kraft 307-327-5374.
Lions Club CRPA/WRA Rodeo July 5-6, 2014 - 32nd Annual Snake River Lions Club CPRA/WRA Rodeo Saturday, July 5th 7:30pm; Sunday, July 6th 1pm (slack at 8:00 am). $1000 Added for rough stock, $500 all other events. Buckles in each even plus All Around. Happening at Russell Community Park in Dixon, Wyoming. Rodeo Dance after the performance on Saturday night. Fun Days to follow after Sunday's performance. Fun Day books open the Monday of the rodeo. Call 307-383-7976 for more information.
Platte River Rodeo Association Rodeo July 11-12, 2014 The 18th annual, two-day amateur rodeo features your favorite events: barrel racing, bronc riding, team roping, steer wrestling and bull riding. Activities for the kids include mutton bustin' and steer riding. Held Friday and Saturday nights at the Buck Springs Rodeo Arena. Please call Terri Hinkle for more information 307-326-8825.
Working Ranch Cowboy Rodeo (WRCA Sanctioned Rodeo) July 26-27, 2014 Working Ranch Cowboy Association strives to preserve the lifestyle of the working ranch cowboy. There will be a minimum of 10 teams, and as many as 20. The winning team is automatically entered to the WRCA Finals in Amarillo in November. All team members must prove that they are a current "working cowboy" through payroll documents etc. which makes it pretty unique to other rodeos. There will also be a RHAA Horse show prior to the rodeo on Saturday. Saturday 3pm-9pm and Sunday 9am–1pm. Contact Lane Gardiner at 307-327-5550 for more information.

Saratoga Bullfest August 2, 2014 The 14th annual Saratoga Bullfest, a bull riders-only event is held at Buck Springs Rodeo Arena. For info on the Steinley Cup, please call the Chamber of Commerce. For info on the Saratoga Bullfest, please call Bo 307-326-7991.

Carbon County Fair and Rodeo Aug 2 - 9, 2014 The Carbon County Fair Grounds are located between East Spruce & Daley Street and between Harshman & Rodeo Street in Rawlins, WY.
General admission to the Carbon County Fair is free!!
Rodeo on Thursday, and Friday, as well as the Demolition Derby on Saturday.
The charges are: $10 for ages 12+; $5 for ages 6-12 and free for 6 & under.
$25 "prepass" can be purchased at the Fair Office. Fair office phone # is 307-328-7811